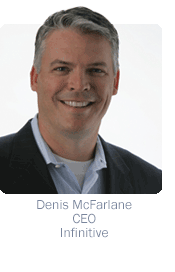 Every firm talks a good game about their culture, but when you have the stats to back it up like Infinitive does, culture is much more than a buzzword. In the second half of 2015 alone, the Ashburn, Va.-based firm has racked up considerable recognition as a top employer. In addition to being named a 2015 Best Small Firm to Work For by Consulting magazine, Washingtonian Magazine, Inc. Magazine, and The Washington Post all have praised Infinitive as a great place to work. We sat down with Denis McFarlane, the firm's CEO, to talk about the firm's culture and core values and how they help put it ahead of the pack.
Consulting: You've made culture a cornerstone of Infinitive from the very beginning, how does all of this recognition feel in light of that?
McFarlane: I'm feeling very lucky. We're being recognized both locally and nationally for some of the things we're doing. Sometimes for things we didn't even know we were up for. Even when I started the company with 2003 with zero employees I knew I wanted it to be a great place to work. If I was lucky enough to hire people, I hoped to make it a place people can thrive and enjoy themselves and do work they're passionate about. That takes a long time. You certainly make some hiring mistakes; some people don't fit the culture or have the same goals but you don't realize it until they're on board. We haven't done everything right but we always strive to keep getting better.
Consulting: How does your view of the CEO as 'Chief Culture Officer' manifest in the way you run the company? 
McFarlane: Somebody asked me a few years ago how we do culture. I remember thinking it's not just one thing. There's no magic bullet, it's in almost everything we do. It's in our hiring, it's in our performance management framework of how we measure and assess how people are doing, it's in our events both internal and external, it's how we think about how we staff our projects. All that stuff fundamentally goes back to what sort of culture we're trying to build.
We've learned to implement along the way certain things, the first day somebody joins, when they go through the interview process people clearly like what they see and we clearly like them. But the first day they join, that's the opportunity to further reinforce the culture. So that first day we have an office-wide celebration. We give them swag, a bottle of champagne; we have their name on a TV screen saying welcome. So we really take care that first day to let them know how important they are to us. But we also go through the Infinitive 101 class, what are our core values? We do that so when they go to our clients they can continue to represent that culture.
Consulting: What are some of the ways Infinitive makes culture more than a buzzword?
McFarlane: Our core values have been in place for a couple of years. We jointly put them together with 30 or so people and they submitted words and phrases we thought we were important. But I would say our core values is the biggest thing. We assess recruits on the core values and we leverage them for the performance review process.
We do a really good job matching not just culture to infinitive, but also culture to the clients. We assess their culture when staffing engagements. In a lot of ways finding expertise isn't hard, but finding people who can drive and create change and value in companies is the art, and that's where clients really like us. When we're screening people to fit our company we have to screen them too whether they can serve in different types of cultures clients might have.
I believe everyone at Infinitive has the opportunity to be the best in the world at something. You can create your own personal niche. We can't guarantee every project you're going to be on will be the greatest, coolest project in the world, but we can guarantee most of our projects are hard. Our clients hire us to do pretty hard stuff, otherwise they'd do it themselves.
Consulting: How can companies that want to overhaul their culture start on the journey?
McFarlane: They need to think about the culture they want to build. Even at zero employees if it's just the founder or founders they have to consciously think about the culture they want to have. What type of people do they want to hire? What type of attitudes? And it goes beyond capable and competent. It goes to some places might not like people who are highly interactive, they might want people who are just heads down, get the job done and go home. You also have to think through how your real estate will impact your culture. In our offices we have glass walls, and everyone has window. My office door is always open. Literally. Everything is very transparent and it makes for an open and collaborative environment.